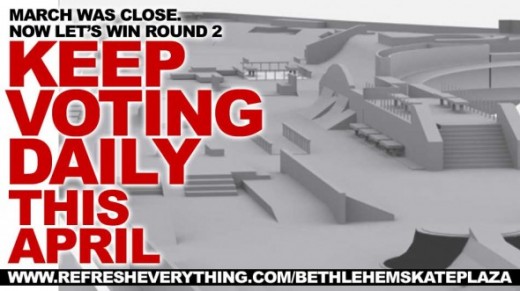 Voting for The Pepsi Refresh con­test is over for March and although The Bethlehem Skateplaza didn't win this round, the park is already under phase 1 con­struc­tion. Round 2 vot­ing is for the entire month of April. The skateplaza is try­ing to win this Pepsi money to com­plete phase 1 by the end of sum­mer 2010. Set http://​www​.refre​shev​ery​thing​.com/​b​e​t​h​l​e​h​e​m​s​k​a​t​e​p​l​aza as your home­page and vote every­day. Send the link to your friends and fam­ily and ask them to vote. You can share the link on Twitter and Facebook right from the Refresh Everything page.
I also set up an event in my google cal­en­dar to email me daily with the link to remind me to vote every­day. I sug­gest you do the same in what­ever cal­en­dar app you use. If you aren't sure how to do this, ask in the com­ments for what­ever cal­en­dar pro­gram you use. If I can't help, some­one else out there may be able to help you out.
If you have a face­book account, vot­ing lit­er­ally takes less than 30 sec­onds. This park is going to be amaz­ing. Do your part and help the 610 win that Pepsi money!