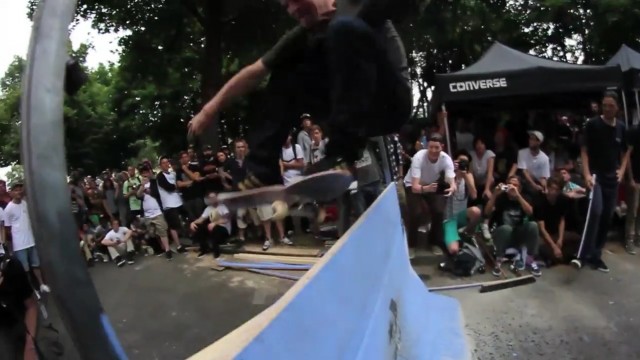 The Wallie World Cup is right up my alley. You know how much I love wallie's.
The Wallie World Cup 2012 occured out­side the Bright Trade Show in Berlin and you can watch the video below where Dennis Busenitz takes the title with a 115cm (~3'10″) wal­lie. Damn that's big.
The con­cept was sim­ple Wallie over a bar­rier and you become the cham­pion of the world. The MC, Lev Tanju of Palace Skateboards, was com­plete com­edy. Everyone had three tries to get over the bar­rier and when those were used up and more attempts were needed, the kind hearted, Lev facil­i­tated with a nice cold one. For some the strength of German Beer didn't help them get over but for oth­ers the com­bi­na­tion of light feet and alco­hol made the task easy to accom­plish.
Starring: Pontus Alv, Dennis Busenitz, Jason Adams, Dennis Laas, Guy with Energy Drink Hat, Curly Haired Kid, White Shirt, The Australian and many oth­ers who I couldn't give nick­names too
FILM/​EDIT: Sean Nguyen
World Record Wallie Contest from The Skateboard Mag on Vimeo.