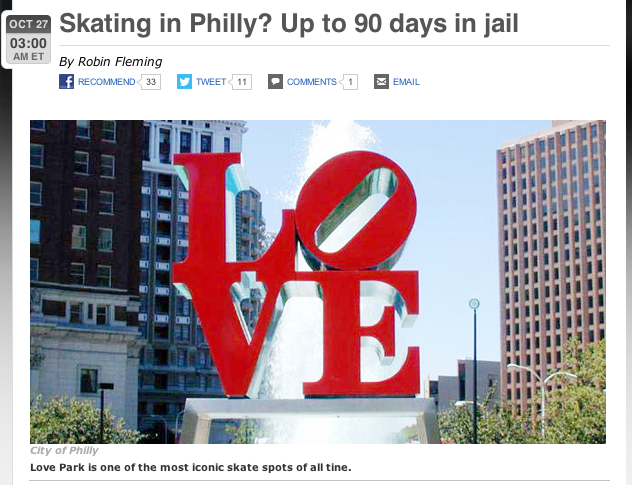 ESPN has writ­ten an arti­cle regard­ing the pro­posed amend­ments to Bill 120534 that was recently put on hold.
At a follow-​​up meet­ing last week between Councilman Oh and lead­ers of the local skate­board­ing com­mu­nity, (Steve) Miller (of Exit) was again on hand, say­ing, "We believe that this is a sweep­ing gen­er­al­iza­tion of skate­board­ers and it's tar­get­ing skate­board­ers more than any orga­ni­za­tion or sub­cul­ture that does in fact cre­ate van­dal­ism — whether it's graf­fiti artists or what­ever it may be."

via Philadelphia intro­duces a bill to ban skat­ing on pub­lic sculp­tures and mon­u­ments with fines up to 90 days in jail — ESPN.
It's good to see this entire sit­u­a­tion in Philadelphia get more atten­tion to more peo­ple and not just the skate­board and polit­i­cal scene of Philadelphia. Despite the ground­break­ing of Paine's Park recently the city needs to not be focus­ing on mak­ing skate­board­ers into crim­i­nals when it tries to say it wants to retain the younger gen­er­a­tion. Skateboarding is a very pos­i­tive thing for kids. If you don't believe me then might want to read this arti­cle about South Dakota's Pine Ridge Indian Reservation.
Hat tip to Brad and Steve from Exit for the links in this post.