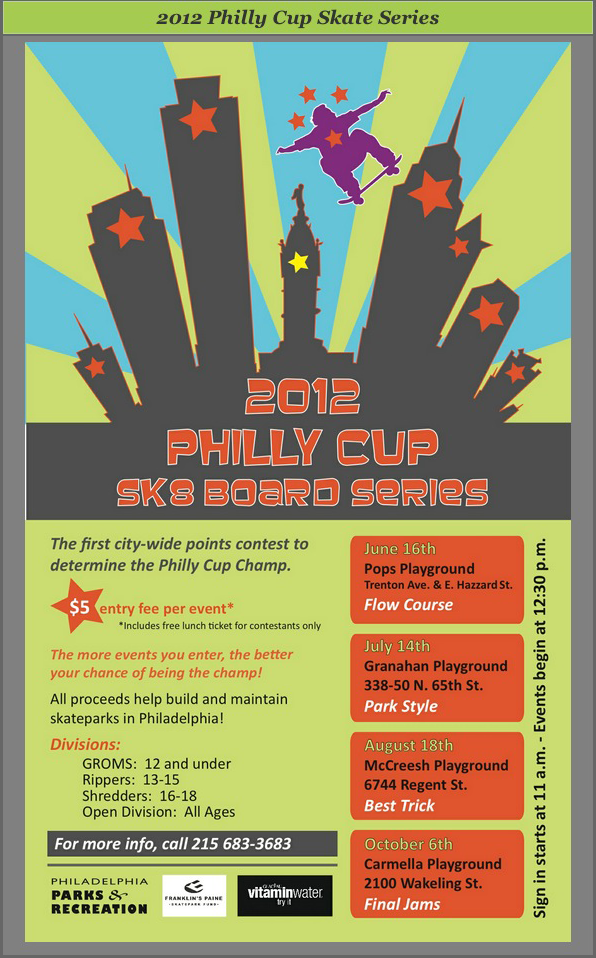 Last Saturday's con­test at Granahan in the Philly Cup Skateboard Series had to be resched­uled to this upcom­ing Saturday due to some rain last week.
They are also hav­ing some kind of skate jam thing tomor­row as well. The Soul Cheerleaders will even be there! (uh, what?)
via Franklin's Paine Skatepark Fund on Facebook:

The City's "Fun, Safe Philly Summer" pop-​​up event series con­tin­ues at Granahan Playground this Wednesday, July 18th from 6-​​8pm (6500 Callowhill Street). Yes, it's a busy week at Granahan! Come out this Wednesday night for skate demos, clin­ics and free skate with tons of great prizes. The Philadelphia Soul cheer­lead­ers "Soulmates" will be there to cheer you on!
Today's event has been can­celled by the city due to "thun­der­storm fore­casts and extreme heat"