Around 1995 I got a new deck that had my most favorite graphic of all time on it. I believe it was a "Planet Earth" deck. As you can vaguely see above, it was a car­toon sun hug­ging a car­toon ver­sions of all the plan­ets in our solar sys­tem, includ­ing Pluto (back then it was still con­sid­ered a planet).
Shortly after the­ses pho­tos were taken this board was stolen from me out­side of a hard­core show in Lockport, NY. It was the old, "Hey, mind if I try your board trick?" that I was still young and naïve enough to fall for. I've always had the events of that day stuck inside my mind and always tried to find pic­tures of this graphic. I've described it to many peo­ple over the years with no luck of any­one every remem­ber­ing the graphic even existed. I for­got I had taken dis­pos­able cam­era pic­tures of them.
Recently my brother found a box of old pho­tos and sure enough these long for­got­ten pic­tures I took of this graphic have sur­face. I now have ref­er­ence to show peo­ple with the hopes of con­firm­ing that some­one else out there has seen this board. Even bet­ter would be to find out who the artist was and hope­fully get a cleaner pic­ture of this graphic.
What do you say, inter­net? Think you guys could help spread this post around and see if we can make this hap­pen? Below is an approx­i­mately 17 year old pic­ture of me hold­ing said board. How's that for a #throw­back­thurs­day? Self bleached orange hair and extra baggy Tee and Shorts on a young haveboard!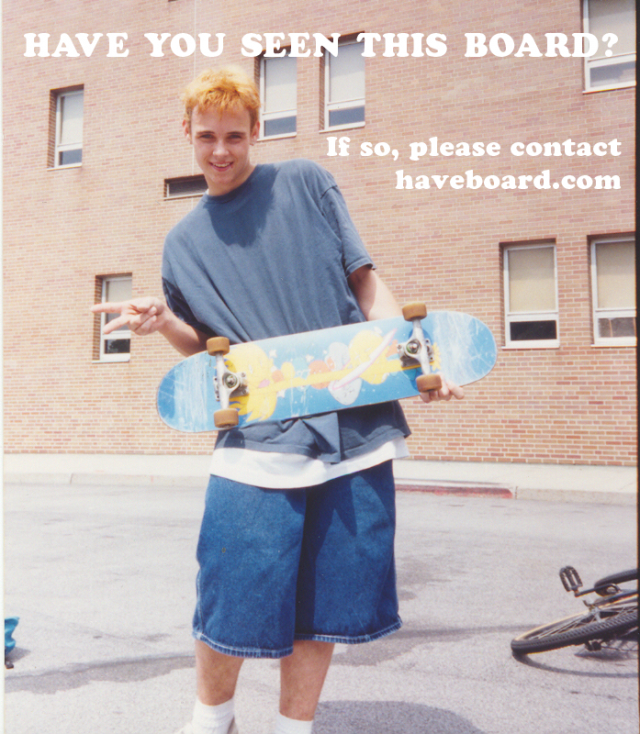 As a bonus to this post, watch Chris Lambert's part from Planet Earth "Silver" video: