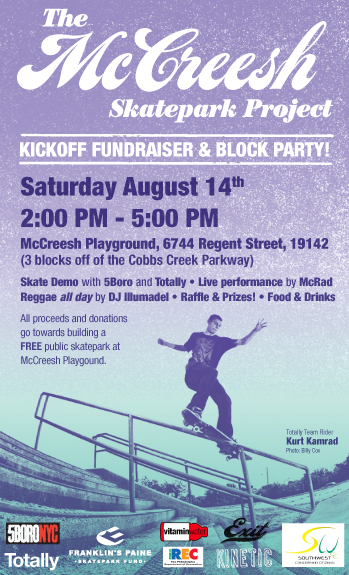 Scott Kmiec sent out an email today pro­mot­ing the first fund-​​raising event for The McCreesh Skatepark Project. He has been orga­niz­ing this event along with the Franklin's Paine Skatepark Fund. Skaters from both 5Boro and Totally will be there as well as music from DJ Illumadel and Chuck Treece. Food and some ramps for a skate jam will be pro­vided. The ramps will be left behind for the kids to skate after the event ends. Very cool.
When: Saturday August 14th, 2pm — 5pm
Where: 6744 Regent Street, Philadelphia, PA 19142
Sponsors: FPSF, Totally, Exit, 5Boro, Kinetic, Vitamin Water and more…
The email:
"On August 14th we're hav­ing our first fundrais­ing event for the McCreesh Skatepark Project. I've per­son­ally orga­nized this first fundrais­ing event to bring atten­tion to the project and get the ball rolling with fundrais­ing. I'm excited to announce that we have both 5boro and Totally com­ing out to skate. We'll be build­ing some ramps for the demo and the com­mu­nity orga­niz­ers have given us per­mis­sion to leave the ramps behind for the kids to skate. DJ Illumadel will be spin­ning reg­gae all day and Chuck Treece is gonna close out the day with a live per­for­mance from McRad! And all kinds of great food will be pro­vided from the local com­mu­nity. I've been very involved in this project and this is a ter­rific oppor­tu­nity to build a great pub­lic skatepark for this neigh­bor­hood. Please come out and show your sup­port for what is sure to be an amaz­ing day and the begin­ning of Philly's next great skatepark. Thanks!
- Scott Kmiec"