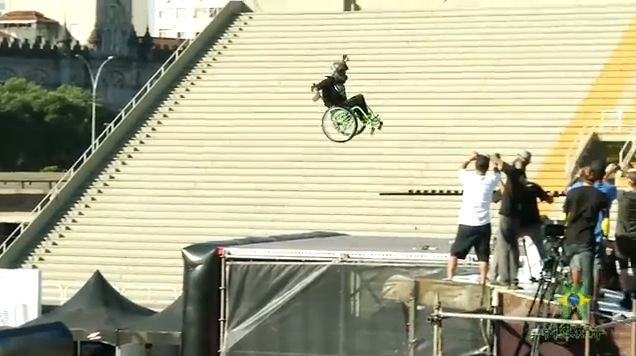 I know this isn't exactly skate­board­ing (he calls it "Sitting") but it is skate­board­ing related due to the MegaRamp and is hands down amaz­ing. Aaron Fotheringham floats 50 feet in the air across the MegaRamp gap. This is absolutely inspiring.
Aaron "Wheelz" Fotheringham attempts and lands the first wheel­chair jump on MegaRamp. A 50 foot straight air jump to hand plant on the quar­ter pipe Rio de Janiero August 25, 2012 at the MegaRampa event.

For more MegaRamp visit: http://​www​.MegaRamp​.com
For more Wheelz visit: http://​www​.AaronFotheringham​.com/
Thanks to Skateintheday on YouTube for putting this instant "Classic Clip(s)" in my inbox today.