The 3rd stop of this year's Street League was won by PRod this past week­end & despite the @StreetLeague twit­ter telling you to tune in live, there were some tech­ni­cal dif­fi­cul­ties. I was able to watch most of the "run sec­tion" which I feel is a dif­fer­ent for­mat then last year but then had to refresh my browser because I was in full screen & then min­i­mized the video but it was play­ing at full size but only show­ing through the smale embed area. Does that make sense? Probably not.
After refresh­ing my browser I was greeted with the mes­sage above. I even tried to  go through all the "like gate"s to watch the stream on a dif­fer­ent com­puter & dif­fer­ent browser with no luck. All I got were an unwanted LIKE for the Street League Facebook page and 2 mes­sages on my Timeline (because Facebook no longer calls it a Wall) say­ing I watched Street League (see below).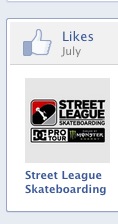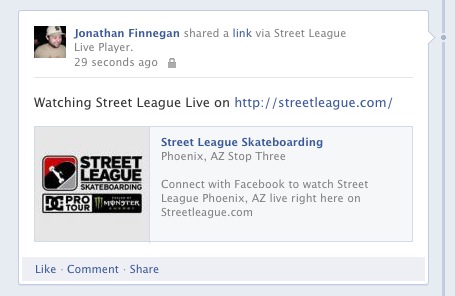 I watched the replay a few days later which I linked from the first image of this post. It was a pretty impres­sive event & an inter­est­ing take on skate­board­ing. I think it does a good job pack­ag­ing skate­board­ing for mass con­sum­tion by non-​​skateboarders & young skate groms although the announc­ing is some­what painful. Skateboarding has changed, that's for sure.
There were lot's of shot's like these in the stream for when the com­mer­cials were air­ing. That's a lot of peo­ple! They look bored, though. Oh & lots of Monster Energy Drink ads & pleas to "JOIN" Street League on Facebook. Isn't it called "Liking"?