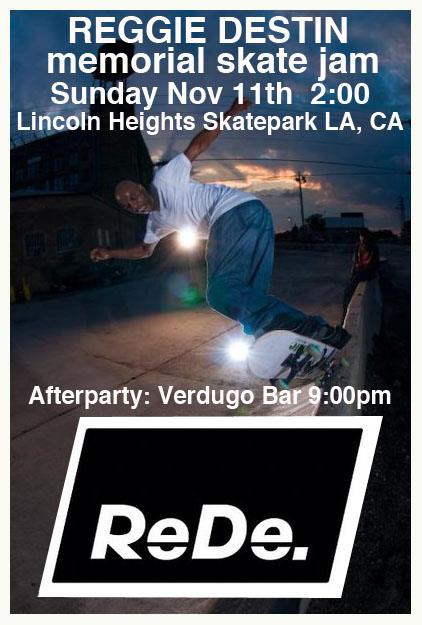 Reggie Destin suf­fered injuries on Oct. 19, 2012 while skat­ing in a bike lane in Chicago. He was struck by a drunk dri­ver and which put him in the hos­pi­tal in crit­i­cal con­di­tion. Unfortunately his injuries got the best of him and he passed away. I didn't know him but he was a well respected local skate­boarder from Chicago. From the out­pour­ing of sup­port through­out the skaet­board­ing com­mu­nity it is very obvi­ous that skate­board­ing lost another amaz­ing person.
There is a Go Fund Me page if you would like to donate to his hos­pi­tal bills and funeral services.
There will be a Memorial skate jam this Sunday at Lincoln Heights Skatepark in LA, CA.
From Josh Kalis's Instagram Page:
Reggie Destin was one of the best peo­ple on this planet. He was killed skat­ing down the street by a drunk dri­ver. He would help any­one he could. If you could please go to gofundme​.com/​r​e​g​g​i​e​d​e​s​tin and make a dona­tion to help his fam­ily pay for life sup­port, and funeral costs it would be much appre­ci­ated. I love you bro. You'll be missed. I'll help keep that city style alive for you Brotha!! R.I.P. Reggie.