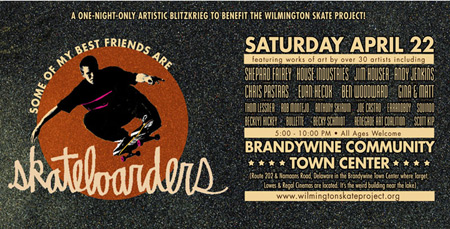 This Saturday, help raise funds for the Wilmington Skate Project. The WSP is a Delaware based non-​​profit orga­ni­za­tion that's been lob­by­ing city gov­ern­ment to pro­vide a high qual­ity, free pub­lic skatepark for the locals of Wilmington, DE.
Entitled "Some of My Best Friend's Are Skateboarders", the show will fea­ture a mix of dif­fer­ent media (paint­ing, graphic design, sculp­ture, fab­rics, etc.) from over thirty artist includ­ing Shepard Fairey, House Industries, Jim
Houser, Evan Hecox, Andy Jenkins, Chris "Dune" Pastras, Ben Woodward (Space 1026), Thom Lessner, Gina Triplett and Matt Curtius, Anthony Skirvin and Joe Castro.
The one-​​night-​​only show will take place Saturday, April 22 from 5 – 10:00 PM at the Brandywine Community Town Center
(Route 202 and Naaman's Road) just north of Wilmington, DE. We're ask­ing for a sug­gested dona­tiong of $5 to help raise funds for the con­struc­tion of a free out­door skatepark in Wilmington. Some of the work will be for sale, with pro­ceeds also going back to the WSP.
For more infor­ma­tion, visit
www​.wilm​ing​ton​skatepro​ject​.org or
www​.mightyjoe​cas​tro​.com