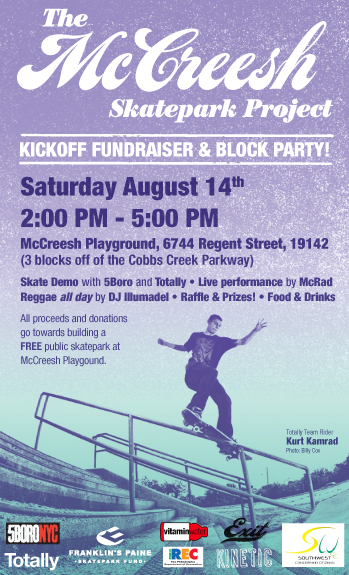 Scott Kmiec sent out an email today promoting the first fund-raising event for The McCreesh Skatepark Project. He has been organizing this event along with the Franklin's Paine Skatepark Fund. Skaters from both 5Boro and Totally will be there as well as music from DJ Illumadel and Chuck Treece. Food and some ramps for a skate jam will be provided. The ramps will be left behind for the kids to skate after the event ends. Very cool.
When: Saturday August 14th, 2pm – 5pm
Where: 6744 Regent Street, Philadelphia, PA 19142
Sponsors: FPSF, Totally, Exit, 5Boro, Kinetic, Vitamin Water and more…
The email:
"On August 14th we're having our first fundraising event for the McCreesh Skatepark Project. I've personally organized this first fundraising event to bring attention to the project and get the ball rolling with fundraising. I'm excited to announce that we have both 5boro and Totally coming out to skate. We'll be building some ramps for the demo and the community organizers have given us permission to leave the ramps behind for the kids to skate. DJ Illumadel will be spinning reggae all day and Chuck Treece is gonna close out the day with a live performance from McRad! And all kinds of great food will be provided from the local community. I've been very involved in this project and this is a terrific opportunity to build a great public skatepark for this neighborhood. Please come out and show your support for what is sure to be an amazing day and the beginning of Philly's next great skatepark. Thanks!
– Scott Kmiec"