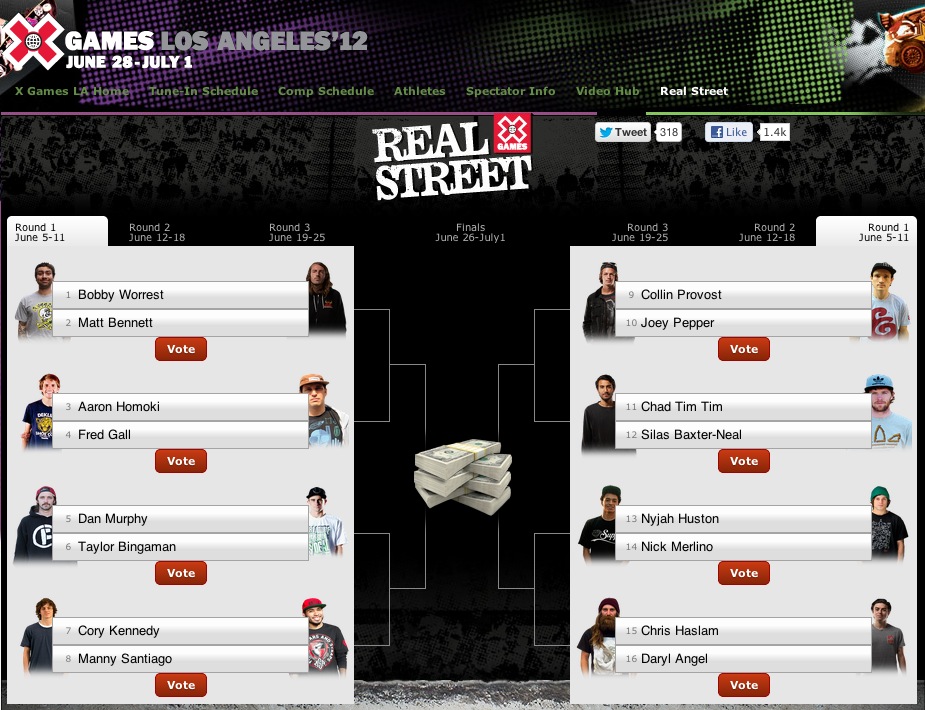 I just voted in round one of the XGames Real Street Fan Favorite.
My picks:
Bobby Worrest (for the ollie onto the car, 360 ollie to tailslide, & the crazy fs wallride)
Fred Gall (I hope he takes it all!)
Taylor Bingaman (for the cab to over fs crooks and the 360 flip fakie on the tiled transition)
Manny Santiago (for the nose manual to nollieflip nose slide)
Joey Pepper (for the curb cut ollie to fs wallride on the door thing)
Silas Baxter-Neal (for the trick at the ABQ bank)
Nick Merlino (mostly because I dislike Nyjah)
Chris Haslam (for the crazy double board tricks & crook to feeble down the jawn)
$50,000 goes to a winner selected by a panel of judges and the Fan Favorite also gets $50,000.
What are your picks and why?
Voting dates:
Opening Round: June 5-11
Quarterfinals: June 12-18
Semifinals: June 19-25
Finals: June 26-July 1
via Summer X Games Los Angeles 2012 Real Street – ESPN.
UPDATE: Appparently you can vote daily according to Bobby Worrest.
[blackbirdpie id="210798197063430144″]