The Berrics has launch a shop direc­tory called Berrics Unified. Although Berra's video makes it sound like he is help­ing the lit­tle shops and single-​​handedly sav­ing skate­board­ing, it's really a sugar coated adver­tis­ing cam­paign. Shops have to PAY to be listed on Berrics Unified. I don't think that charg­ing for the list­ing is bad, but I feel Berra's video pitch­ing the new direc­tory is very misleading.
There is an inter­est­ing dis­cus­sion on the Slap Boards as well as a back and forth between Steve Berra and Steve Miller of Exit Skateshop on twitter.
From user dirt­jers on the slap forums:
***this is a mes­sage I received from Steve at Exit in Philly***

The "Berrics Unified" is a new Advertising pro­gram launched by Steve Berra and The Berrics.

If you watched the video, and some how were lead to believe this pro­gram was a way to "Keep shops from clos­ing their doors" or to "Show you who the IMPORTANT skateshops are". That's because this is in fact what Steve Berra told you. He did not inform that this is a pro­gram estab­lished to MAKE MONEY, that these are shops who have to PAY to be con­sid­ered impor­tant. Unfortunately for many core (and now con­sid­ered unim­por­tant) shops a new $5280 annual adver­tis­ing bud­get is com­pletely unat­tain­able, because most shops are "out­spent, and out adver­tised by large corporations".

Berra speaks of con­sumer morals and "The prin­ci­pals skate­board­ing was founded upon" instead of being clear with his audi­ence, and let­ting you know the truth "he is here to take your money". The only solid truth to be found in this video can be found on your own. We are well aware small skate­board­ing busi­nesses are clos­ing left and right. The strong few who remain strug­gle to sur­vive. The impor­tant shops are not pay­ing for ad space on this web­site… If you want to find the impor­tant shops in your com­mu­nity you need to get out there and find them your­self. This should not be hard. You can find them build­ing PUBLIC parks and spots, throw­ing demo and events, and teach­ing kids the true "prin­ci­pals skate­board­ing was founded upon".

A scan of the infor­ma­tion and rates sent to shops who filled out an inquiry can be found here http://​tweet​photo​.com/​w​j​t​z​a​pjj. Don't believe every­thing fed to by an actor read­ing from a teleprompter.
As I have been writ­ing this post, it seems that Berra has deleted most of his responses to Exitskateshop. Below is a screen­shot of Berra's side, as well as the text, and links to the now deleted tweets.
From @Steve_​Berra: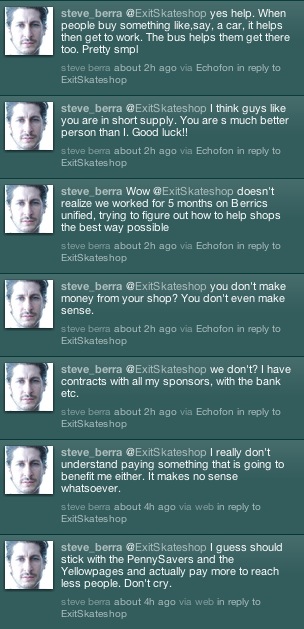 From @ExitPhiladelphia (these were back and forth with the posts above):
@exit­skateshop: So @steve_​berra for­got to men­tion in his speech. Here is the price you have to paid to be "con­sid­ered" a United shop http://​pic​.gd/​d​b​5​f18

@exit­skateshop: @steve_​berra There's noth­ing wrong with mak­ing money , but don't pre­tend like your help­ing when in fact you ARE profiting.

@exit­skateshop: @steve_​berra the video is mis­lead­ing and I am curi­ous how many shops inquire with the idea it may be free.

@exit­skateshop: @steve_​berra The video claims that the pro­gram is "so you know who the IMPORTANT skateshops are" not "who the PAYING shops are"

@exit­skateshop: We can't afford a $5280 adver­tis­ing bud­get because we have already been "out ADVERTISED" does this make us UNIMPORTANT???

@exit­skateshop: lis­ten @steve_​berra We are all skate­board­ers, and for the most part all strug­gling. We do not need bind­ing con­tracts to help each other out

@exit­skateshop: It took ONE post to help shops with Deluxe's Shop con­nect RT @jimt43 t's free. It's sim­ple. It will send kids to skate shops.

@exit­skateshop: yea @steve_​berra you can "help shops the best way pos­si­ble" by pro­vid­ing the same ser­vice for FREE. Deluxe,girl,blkbox etc had no problem

@exit­skateshop: and @steve_​berra we have con­tracts with peo­ple we do "busi­ness" with not peo­ple who "help" each other (as your video claims)

@exit­skateshop: so if @steve_​berra asked me to "help" him move a flat­bar to film a part on should I have him sign a "con­tract"? for $5,280?

@exit­skateshop: yea @steve_​berra I do make money at my shop. Customers see some­thing with a PRICE TAG and buy it. We call it "busi­ness" not "Helping Out"

@exit­skateshop: well @steve_​berra Wouldn't a sim­ple "Berrics now SELLING ad space" do it? You speak as if sell­ing me a ser­vice is a favor or a Privilege
I like to sup­port both Exit as well as Nocturnal, so please don't get me wrong in think­ing I'm try­ing to help fuel a local shop war in Philadelphia. I have friends at both shops. Nocturnal is fea­tured on the site as well as in the video. What I would like to see is more trans­parency in The Berrics Unified pro­gram and Steve Berra. The video is very mis­lead­ing. Be more upfront with the audi­ence that the shops listed have PAID to be on that list.
I feel that all shops should at least be allowed to get listed for free, and have the shops that paid get ban­ner ads and shop pro­files and all that other jazz. I hope that this is the case, as the link to the Membership Plan Selection (screen­shot at the begin­ning of this post) is no longer on the main Berrics Unified site how­ever the page still exists. At least I am pretty sure the mem­ber plan page was linked from the main uni­fied page. Please cor­rect me in the com­ments if I'm wrong.
I really do like the Berrics, and would love to get to skate that place one day, but I've prob­a­bly ruined any chance of that hap­pen­ing with this post, alone. Hopefully that isn't the case. Unfortunately I can't sit back and watch this unfold with­out report­ing on it in hopes of open­ing peo­ples eyes a lit­tle bit to the pol­i­tics that exists in skateboarding.
Once again, I'm not against peo­ple mak­ing money, I'm against mis­lead­ing your audience.
[Update: I added in @exitskateshop's posts from twit­ter as well, since I know some peo­ple are lazy and won't go look them up. I'm not going to mix them in the order with @steve_berra's com­ments, but you can see how this went back and forth.]
[Update 2: I received an email from Berra invit­ing me to call him and talk so I can dis­cuss what the Berrics Unified really is. He did not leave me a num­ber to call him at and I am await­ing a reply. He also deleted the last tweet remain­ing from this whole mess after an appar­ent Phone call/​screaming match between Berra and Miller @Exit.]